Paving and concrete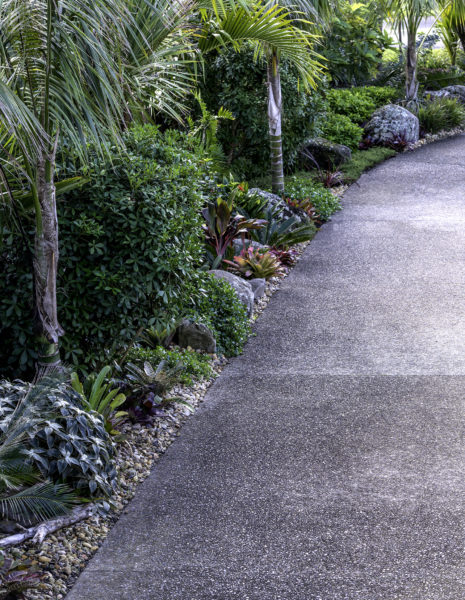 Combinations of concrete, paving, gravels, timber and stone all add vibrancy to an otherwise practical structure.
Do you want a path or drive, patio or helipad? We provide hard surfacing using pavers, geocel, grass pavers, ready mixed concrete, gravel or slabs. All materials require exacting preparation to achieve a long term high quality result.
In plain English, that means a good base. The clay soils predominant in Northland, means we have very mobile sub-soil, requiring extra depths of foundation preparation for our roads, paving and building.
A concrete slab, 100mm thick, has enough integral strength to support domestic traffic as a drive or carpark. Adding reinforcing steel to the concrete won't stop cracking but will hold it together when it does crack. If a bigger load is to be catered for, then the strength and thickness of the slab will increase.
Paving is more flexible, requiring more foundation preparation. For domestic situations, this may mean a foundation depth of 100mm compacted gravel. For larger loads this will obviously increase.  The same applies to sealing and hotmix surfaces. Both require a sound base to support long term integrity.
We like to offer clients a few paving options. This will depend on what their landscaping dream requires, whether it be a mowing strip, backyard patio, paving around a pool, or stepping stones to a clothesline.
Our most common paving suppliers are Firth and Premier Pavers.
Firth Pavers
Common concrete pavers from Firth include:
Forum pavers 400x400mm
Piazza pavers 400x200mm
Holland pavers 200x100mm
Walkway pavers 230x190mm.
These options all come in a range of colours to suit the landscape palette and can be mixed and matched to create the result the client desires. Firth concrete pavers provide a rustic look, perfect for the driveway or a mowing strip.
Premier Pavers
Premier pavers are ideal for that courtyard patio or surrounding the pool. The Italia range comes with textured surfaces and are available in a range of neutral tones and sizes, depending on which finish is desired. Options include:
Milano
Romani
Palazzo
Viltorio
Nubrik Clay Pavers
We have used Nubrik Clay Pavers to good effect in traditional cottage gardens with villa-style houses. They look particularly effective when used in combination with small pebble or a dark bark mulch.
Paradise Quarry
If you are looking for something out of the box, we also lay Paradise stone "Random Crazy Paving." This beautiful oceanic schist is unique, no piece is the same, which means each project has its own one of a kind finish. We source our paradise stone from local suppliers Paradise Quarry in Portland.
There are lots of ways to pave the outside hard surfaces around your home. One job we completed recently was a patio, built with Macrocapa sleeper edging with the surface areas finished with compacted cement reinforce clay. The screeded, compacted surface was power float finished and left to cure. Although this wasn't as durable as concrete, it was far cheaper, softer to live with and the clients understood its limitations. They recognised the clay surfaces would last perhaps as long as the untreated Macrocapa edging.
Another project used grass pavers set in a 2m x 2m concrete beam grid, as a drive. This allowed the drive to absorb the rain water, rather than shed it all to waste. The green grass softened the appearance of an otherwise completely utilitarian structure.